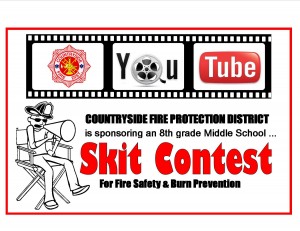 The Countryside Fire Protection District is sponsoring a Middle School Skit Contest focusing on Fire Safety & Burn Prevention.
BACKGROUND:
Fire Prevention Week is designed to provide an opportunity for fire and life safety educators to unite in sharing fire safety awareness and prevention messages in our communities.
CONTEST RULES:
Contest is open to 8th grade advisory groups at Hawthorn Middle North.
The skit should be between 1.5 – 2 minutes long exploring fire safety/burn prevention topics.
It should be educational, informational and appropriate for middle school.  Students are strongly encouraged to visit the following websites for more information:  National Fire Protection Association (www.nfpa.org), Campus Firewatch (www.campus-firewatch.com), and Firesafety.gov for kids.
Students must present at least three (3) informative and accurate facts about topic.
All students in the advisory must participate.
Skits to be performed live on stage Friday, January 31, 2014.
All props and materials to be approved by Fireman Tony Rodkey.
PRIZES:
The entries will be judged by Countryside Firefighter/Paramedics and based on how well the rules above were met.
Grand Prize – $300.00 for a Buffalo Wild Wings party
Second Place Team – $200.00 for Cold Stone Creamery party
Third Place Team – $100.00 Robeks Juice party
EDUCATOR INFORMATION:
This contest addresses learning standard components 3C.4b, 3C.5b and 4B.4a (Grades 6-8) of the Illinois English Language Arts Curriculum Framework and Learning Standard – Contributing to the well-being of one's school and community.
Contact our Public Education Coordinator Tony Rodkey via email at arodkey@countrysidefire.com, if you should need further details on the contest. Good luck!