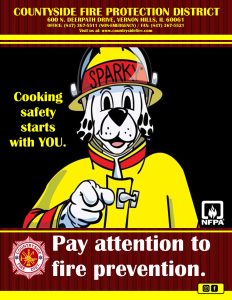 Countryside Fire District is hosting a Fire Safety & Burn Prevention Poster Contest for all Kindergarten through 5th grade level classrooms.  Each grade level will have a first, second and third place winner from all entries from the schools with Kindergarten through 5th grade, which include students enrolled at:
-Country Meadow
-Diamond Lake
-Fremont Elementary
-Fremont Intermediate
-Hawthorn Aspen Elementary
-Hawthorn North Elementary
-Hawthorn South Elementary
-Hawthorn Townline Elementary
-Hawthorn Dual Language Elementary
-Hawthorn School for Young Learners
-John Powers School
-West Oak Intermediate School.
Prizes
The winning posters for each grade level will be announced and displayed at the Countryside Fire District Open House located at 600 Deerpath Drive, Vernon Hills, IL on Sunday, October 8th from 8 a.m. – Noon.
Winners will be invited to a Chick-fil-A Awards Party Celebration to be held on Monday, October 9, 2020 at 6 p.m. at Countryside Fire Protection District-Station No. 1 located at 801 S. Midlothian Road in Mundelein, IL.  What's more, winners will be allowed to bring their families to this celebration!
Rules
Posters created by students must be original artwork. No copyright artwork, characters or name brands can be used in the poster, so be creative!
Size of the poster must be 11 x 17 in size.  NOTE: 11×17 poster board paper was provided to each participating art teacher in the school.
Poster is to reflect this year's NFPA Fire Prevention Week campaign, "Cooking safety starts with YOU. Pay attention to fire prevention."
Students must submit posters no later than

FRIDAY, SEPTEMBER 29, 2023

.
Release form must be attached to the back of each poster.
No copyrighted artwork, characters or name brands can be used in the poster, but we encourage everyone to be creative.
Judging
Each student of Kindergarten through 5th grade within the schools of the Countryside Fire School District listed above can submit a poster on 11" x 17" to their school office or drop off at Countryside Fire Station 600 Deerpath Drive, Vernon Hills, IL.  The Countryside Fire Protection District Firefighters will review the posters based on rules/criteria listed.
Questions
Feel free to contact Fireman Tony Rodkey at (847) 367-5511 or email Tony at arodkey@countrysidefire.com.
Forms
Poster Contest Release Form
Poster Contest Rules 
Poster Contest Printable Flyer