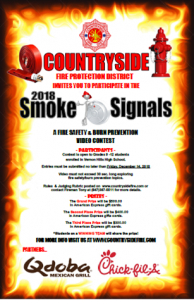 Countryside Fire Protection District is once again sponsoring SMOKE SIGNALS–a Fire Safety & Burn Prevention Video Contest at Vernon Hills High School. The entries will be judged based on how well the rules below were met and how informative the video is.  Winning videos will be downloaded onto YouTubetm, and a link from our website will direct the public to the uploaded video on YouTube with attribution to the creator(s).
PRIZES
The Grand Prize will be $500.00 in American Express gift cards.
The Second Place will be $400.00 in American Express gifts cards.
The Third Place will be $300.00 in American Express gift cards
CONTEST RULES & DETAILS
RULES:
Contest is open to Grades 9-12 grade students enrolled in Vernon Hills High School. Registration forms must be printed and completed by each team member and signed by a school representative. In addition, a participant waiver form must be completed and submitted as well (see forms below).
DETAILS:
The video must not exceed 30 seconds long exploring fire safety/burn prevention topics. Videos longer than 30 seconds lose points accumulated to win prizes.  Videos must also be in a DVD file format such as: .MPEG, .MP4, .FLV and compatible for YouTube.  No copyright infringements, music or video. NOTE: Video must not have any personal information in it.
Videos will be evaluated according to the rubric provided below.
The video should include age appropriate material for a target audience of students in grades 9-12.  Material should not demonstrate risky or    otherwise unsafe behavior. NOTE: There can be no actual fire.
It should be both educational and informational–many YouTube videos show risky behavior, but never tell the "rest of the story."
All videos should be well researched.
We are accepting entries from school-sponsored communications courses or sponsored extra-curricular groups or at large students as long as a school representative is aware and signs the registration.
Communications teachers or faculty sponsors must review and approve all storyboards before filming starts.
Students are strongly encouraged to contact their local fire department, hospitals and library to help with their research.
There can be multiple entries from the same students or class, as students may wish to work in small groups or teams on the project.  NOTE: Students on a winning team WILL SHARE the prize!
Entries should be submitted no later than FRIDAY, DECEMBER 14, 2018 by 4:00 p.m. on DVD with registration form(s) directed to:
Countryside Fire Protection District
c/o Tony Rodkey, Public Education Coordinator
600 N. Deerpath Drive
Vernon Hills, IL 60061
EDUCATOR INFORMATION
This contest addresses learning standard components 4.B.4a (Grades 6-8) and 3C.4b and 3C.5b (Grades 6-8) of the Illinois English Language Arts "Curriculum Framework and Learning Standard – Contributing to the well-being of one's school and community. School districts offering communications classes, which include the design and creation of media productions, are encouraged to promote this contest through an independent or group assignment as part of its curriculum delivery.
BACKGROUND
Fire Prevention Week is designed to provide an opportunity for fire and life safety educators to unite in sharing fire safety awareness and prevention messages in our communities. Information about fire prevention and fire safety awareness can be found on the National Fire Protection Association (NFPA) website www.nfpa.org or Campus Firewatch website www.campus-firewatch.com, also www.firesafety.gov.
FORMS
Smoke Signals Video Contest Rubric Judging Categories
Smoke Signals Video Contest Waiver Form
Smoke Signals Video Contest Rules
Smoke Signals Video Contest Printable Flyer
VH High School Registration Form
WINNING VIDEO
By Autumn Matuch, VHHS