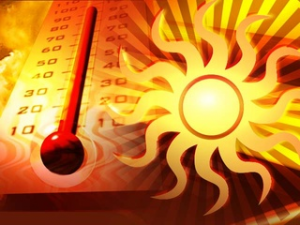 According to the Centers for Disease Control and Prevention, climate change and extreme heat causes more deaths each year than lightning strikes, hurricanes, tornadoes, floods and earthquakes combined!
WHO IS AT RISK?
The elderly, people with a chronic medical problem, homeless, outdoor workers, and athletes are most at risk to heat sickness.
WARNING SIGNS & SYMPTOMS OF HEAT-RELATED ILLNESS
Muscle cramping might be the first sign of heat-related illness, and may lead to heat exhaustion or stroke.
WHAT CAN YOU DO?
Here is how you can recognize heat exhaustion and heat stroke and what to do:
Heat Exhaustion

Heavy sweating
Weakness
Cold, pale, and clammy skin
Fast, weak pulse
Nausea or vomiting
Fainting

What You Should Do:

Move to a cooler location.
Lie down and loosen your clothing.
Apply cool, wet cloths to as much of your body as possible.
Sip water.
If you have vomited and it continues, seek medical attention immediately.

Heat Stroke

High body temperature (above 103°F)*
Hot, red, dry or moist skin
Rapid and strong pulse
Possible unconsciousness

What You Should Do:

Call 911 immediately — this is a medical emergency.
Move the person to a cooler environment.
Reduce the person's body temperature with cool cloths or even a bath.
Do NOT give fluids.
To learn more visit: Centers for Disease Control and Prevention: Extreme Heat & Your Health.