Everyone has seen the fire extinguishers on the wall or in cabinets in their places of employment or stores, but how many people would know how to use one if there was a fire?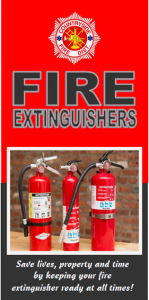 While Countryside's number one priority is ensuring the safety of its customers, including evacuating from fires, sometimes the quick action of someone with a fire extinguisher can put out a very small fire, for example, a waste paper can. To help its customers prepare for that type of scenario, Countryside offers a class on the use of portable fire extinguishers. The class instructs the student in the proper use and procedures for handling a fire extinguisher through video and hands-on training. There is also a great emphasis placed on fire prevention and education.
Because this class uses live fire extinguishers, a facility that is able to utilize an outside area for the hands-on portion of the class is required.
For more information, contact Public Education Coordinator Tony Rodkey at (847) 367-5511 or arodkey@countrysidefire.com.
Click here for a printable brochure on fire extinguishers.