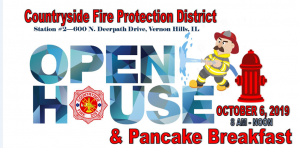 Countryside Fire Protection District will host its Annual Pancake Breakfast and Open House on Sunday, October 6, 2019 from 8 a.m. to Noon at Station 2 (600 N. Deerpath Drive, Vernon Hills).  This event kicks off Countryside's observance of Fire Prevention Week.  The theme for this year's Fire Prevention Week is "Not every hero wears a cape. Plan and practice your escape!"
The cost for this all-you-can-eat pancake breakfast event will be $15 (for a family up to four) or $5 a person.  In addition to the breakfast, the fire station will be open to the public for station tours, sitting in the fire trucks and plenty of safety information exhibits will be set up with handouts for all that attend.  This is an excellent family activity and a great opportunity to brush up on fire and life safety at home. So come meet your local firefighter/paramedics and check out all the equipment they have to use in the event of an emergency.
For additional information, please contact Tony Rodkey, Director Fire and Life Safety Education at (847) 367-5511 or arodkey@countrysidefire.com.  We hope to see you there!