Sworn Firefighter Opportunities
Career Firefighter/Paramedic
The Countryside Fire Protection District Board of Commissioners is responsible for establishing an eligibility list to fill potential full-time, career firefighter/paramedic openings. At this time, Countryside Fire Protection District is accepting applications for the position of full-time firefighter/paramedic.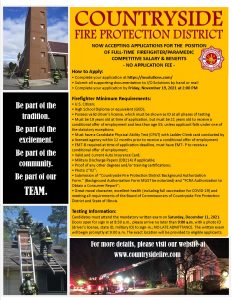 How to Apply:
Complete your application at https://iosolutions.com/
Submit all supporting documentation to I/O Solutions by hand or mail
Complete your application by Friday, November 19, 2021 at 2:00 PM
Firefighter Minimum Requirements:
U.S. Citizen;
High School Diploma or equivalent (GED);
Possess valid driver's license, which must be shown as ID at all phases of testing
Must be 19 years old at time of application, but must be 21 years old to receive a
conditional offer of employment and less than age 35; unless applicant falls under one of the statutory exceptions;
Must have a Candidate Physical Ability Test (CPAT) with Ladder Climb card conducted by a licensed agency within 12 months prior to receive a conditional offer of employment
EMT-B required at time of application deadline, must have EMT- P to receive a conditional offer of employment;
Valid and current Auto Insurance Card;
Military Discharge Papers (DD214) if applicable;
Proof of any other degrees and/or training certifications;
Photo 2"X2";
Submission of "Countryside Fire Protection District Background Authorization Form." (Background Authorization Form MUST be notarized) and "FCRA Authorization to Obtain a Consumer Report";
Great moral character, excellent health (including full vaccination for COVID-19) and meeting all requirements of the Board of Commissioners of Countryside Fire Protection District and State of Illinois.
Testing Information:
Candidates must attend the mandatory written exam on Saturday, December 11, 2021. Doors open for sign in at 8:30 a.m., please arrive no later than 9:00 a.m. with a photo ID (driver's license, state ID, military ID) to sign-in.; NO LATE ADMITTANCE. The written exam will begin promptly at 9:00 a.m. The exact location will be provided to eligible applicants.  Click here for a printable flyer.
Part-Time, Paid-on-Premise Firefighter

Thank you for your interest in our Part-time Paid-on-Premise Firefighter Program (POP) with Countryside Fire Protection District.  At this time, we are not accepting applications for our POP program.  However, we will be happy to place your contact information on a list, and we will notify you of any future openings so you may apply during our open application process.
To be added to our list, please email the following information to ldiaz@countrysidefire.com:
– Full Name
– Mailing Address
– Contact Number
– Fire Related Certifications
Additional questions regarding our Paid-on-Premise Program can be directed to Deputy Chief Ron Echtenacher at (847) 367-5511 ext. 102 or via email at rechtenacher@countrysidefire.com.
Civilian
There are no civilian openings at this time.
Part-Time Telecommunicator
Thank you for your interest in a Part-time Telecommunicator position with Countryside Fire Protection District.  If you are interested in a position, please drop off the completed application, a current resume, and other required documents as listed to Communications Director Ed Manke at VHPD located at 740 Lakeview Pkwy., Vernon Hills, IL 60061. We will then contact you after reviewing your application.  Further information on the application process and qualifications can be found on the application below.
-2019 PART-TIME TELECOMMUNICATOR APPLICATION