It is a known fact that motor vehicle crashes are the leading cause of death among young children due in part to the non-use or improper u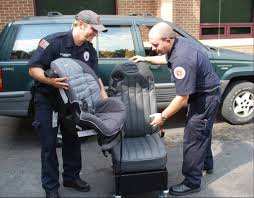 se of child safety seats and seat belts. For this reason, it is our goal to work with parents and caregivers to teach them how to properly install a child safety seat into their vehicle.  What is more, our service is FREE of charge!  For the convenience of our district residents, we have two locations with highly trained and Certified Car Seat Technicians ready to assist you 7 days a week between the hours of 8 a.m. – 7 p.m.
STATION LOCATIONS:
Station No. 1 – 801 S. Midlothian Road, Mundelein, IL
Office: (847) 918-6151
Station No. 2 – 600 N. Deerpath Drive, Vernon Hills, IL
Office: (847) 367-5511
APPOINTMENT:
An appointment is not necessary; however, we do ask that you give the station a courtesy call approximately 10-15 minutes prior to your arrival to make sure our on-duty car seat technician is available. CFPD's Certified Car Seat Technicians must respond to emergencies and/or have other job-related duties they must attend, so it is best to call ahead of time.
IMPORTANT NOTICE:
Although Countryside Fire Protection District offers free car seat inspections and instruction as a community service, the ultimate responsibility for the child's safety rests with the parent or driver of the vehicle.
For more car seat information visit the following sites: Buckle Up Illinois or National Highway Traffic Safety Administration Safercar Parents Central.  Should you have any additional questions, please feel free to contact our office at (847) 367-5511 and ask to speak to a car seat technician.