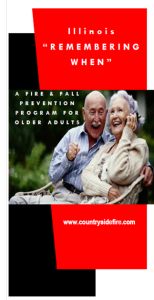 Fact: At age 65, older adults are twice as likely to be killed or injured by fires or falls compared to the population at large.
Fact: Thirty percent of people age 65 and older are involved in falls each year, the leading cause of death from unintentional injury in the home.
Fact: In the U.S. and Canada, adults age 65 and older make up about 12 percent of the population – and their numbers are increasing.
Remembering When™ – "A Fire and Fall Prevention Program for Older Adults" is a program developed by the NFPA Center for High-Risk Outreach and the Centers for Disease Control and Prevention (CDC) to help older adults live safely at home for as long as possible. The program is centered around 16 key safety messages – eight fire prevention and eight fall prevention – developed by experts and practitioners from national and local safety organizations as well as through focus group testing in the high-fire-risk states of Alaska, Arkansas, and Mississippi, and in Cleveland and Atlanta.
No single agency can be responsible for reaching every older adult in our community. Countryside assembled a community coalition including the Vernon Hills Police, Lake County Sheriff, Hawthorn Woods Police, Advocate Condell Medical Center & Immediate Care Center, Hawthorn Lakes (Brookdale Senior Living), and The Park at Vernon Hills (A Horizon Bay Senior Community).
Program Highlights
 Available to adults age 65 & older or adult under age 65 with disabilities

 Individuals must live within the Countryside Fire Protection District

 Provide & install free smoke alarms

 Provide & install free night lights

 Free safety brochures on fire & fall prevention

 Free home safety visits/inspections for fire & fall hazards

 Resources for additional help (Public Heatlh, Department of Aging, etc.) if needed
How the Program Works
Interested individuals should contact Public Education Coordinator Tony Rodkey at (847) 918-6155 or arodkey@countrysidefire.com to schedule an appointment for the free home safety visit.
At least two members of the coalition will conduct the home visit which will include a safety inspection, equipment installation, and safety education. Follow-up phone calls may also be made to answer any questions.
Click here for a printable brochure.